There are several ways you can help Martha's Kitchen to continue serving our community. In addition to donating goods, services or funds, you can also buy beautiful handmade items created with love by our guests and volunteers.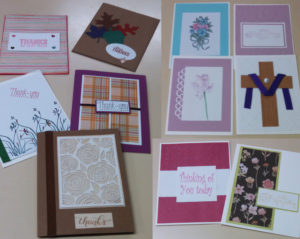 Volunteer Cathy Whistler Rockey, creates these vintage style cards for us.
We have a variety on hand to choose from including Holidays, Birthdays,
Sympathy, Special occasions, etc.
If you are interested in purchasing one of these wonderful cards,
please call 802-343-5411 to learn more, or
send an email to [email protected]
All proceeds go to the Martha's Kitchen mission.
Your donation-purchase is 100% tax deductible.
Thank You for Donating to Martha's Kitchen Today
Please click the "Donate" button below and you will be redirected to PayPal, where you can make a donation with your credit card. Or donations can be made via check
written to Martha's Kitchen INC and being mailed to 139 Lake Street, St. Albans, VT 05478.
We alos have Venmo (below).
Donations may also be made via our Facebook Page.
Sharing your blessings with us, helps us to bless many in return.
OR below is our Venmo
Venmo requires a QR-Reader in order to access it and send it.