Our Guardian / Administrator
Bob Begley ofs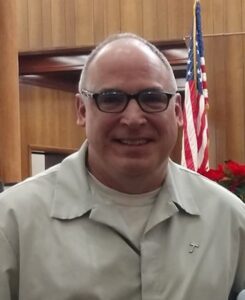 Since the fall of 2014, Bob Begley ofs has taken on the role of Guardian* for Martha's Kitchen.
He has oversight of day-to-day operations while working with area churches, businesses, families and individuals in promoting our mission. Bob is a member of the Franciscans of St. Mary of the Angels Fraternity and finds great joy in his vocation as brother and sibling to all. He is a native of Lowell, Mass but has lived in Vermont for over 20 years. As a Franciscan, he is familiar with the ministries of "rebuilding / restoring" relationships with the goal of building community.
* Guardian is a term used by the Franciscan Community to emphasize "servant – leadership".
Martha's Kitchen is blessed to have an abundance of dedicated volunteers~!
Martha's Kitchen is blessed with over 150 volunteers from the community who give their time, energy,
and love to helping us with our mission, and we are deeply grateful.
Over the last year, due to the pandemic, our number of volunteers decreased drastically.
The following are contributions from volunteers who continued to serve during the pandemic. These words give witness to the many ways our volunteers make visible the living and active presence of hope and compassion, witnessing to the good happening right now, and calling all to believe in the transforming power of love and pardon.
As you will read, the pandemic is not squelching our desire to serve, it is strengthening it!
Together, we are moving forward in new ways, responding in faith to the signs of our times.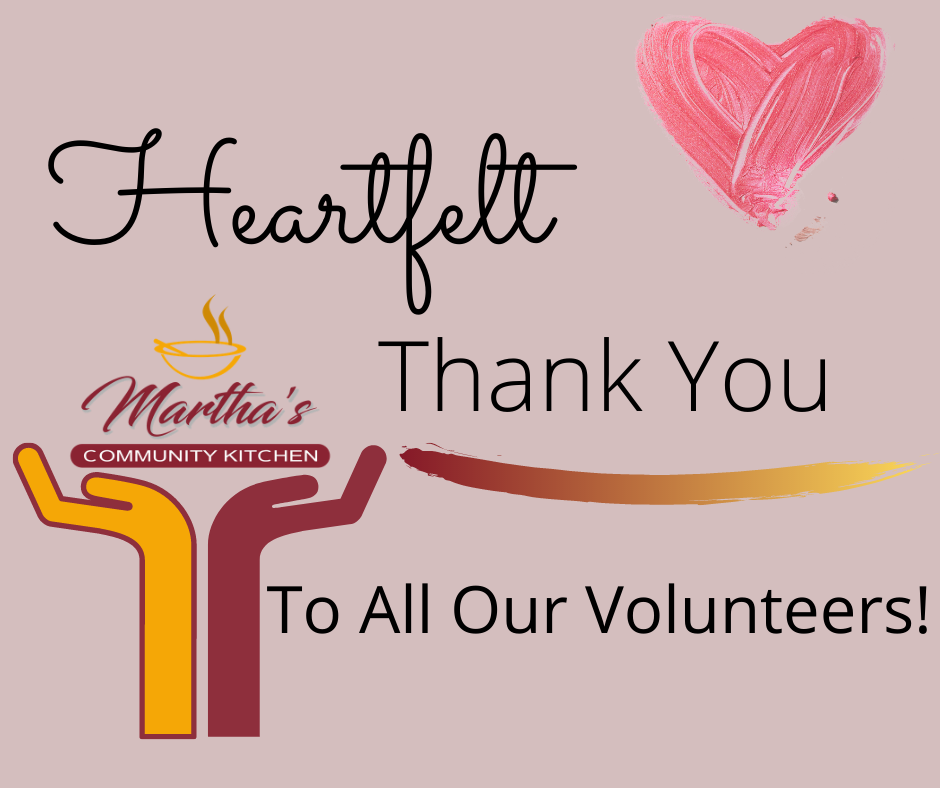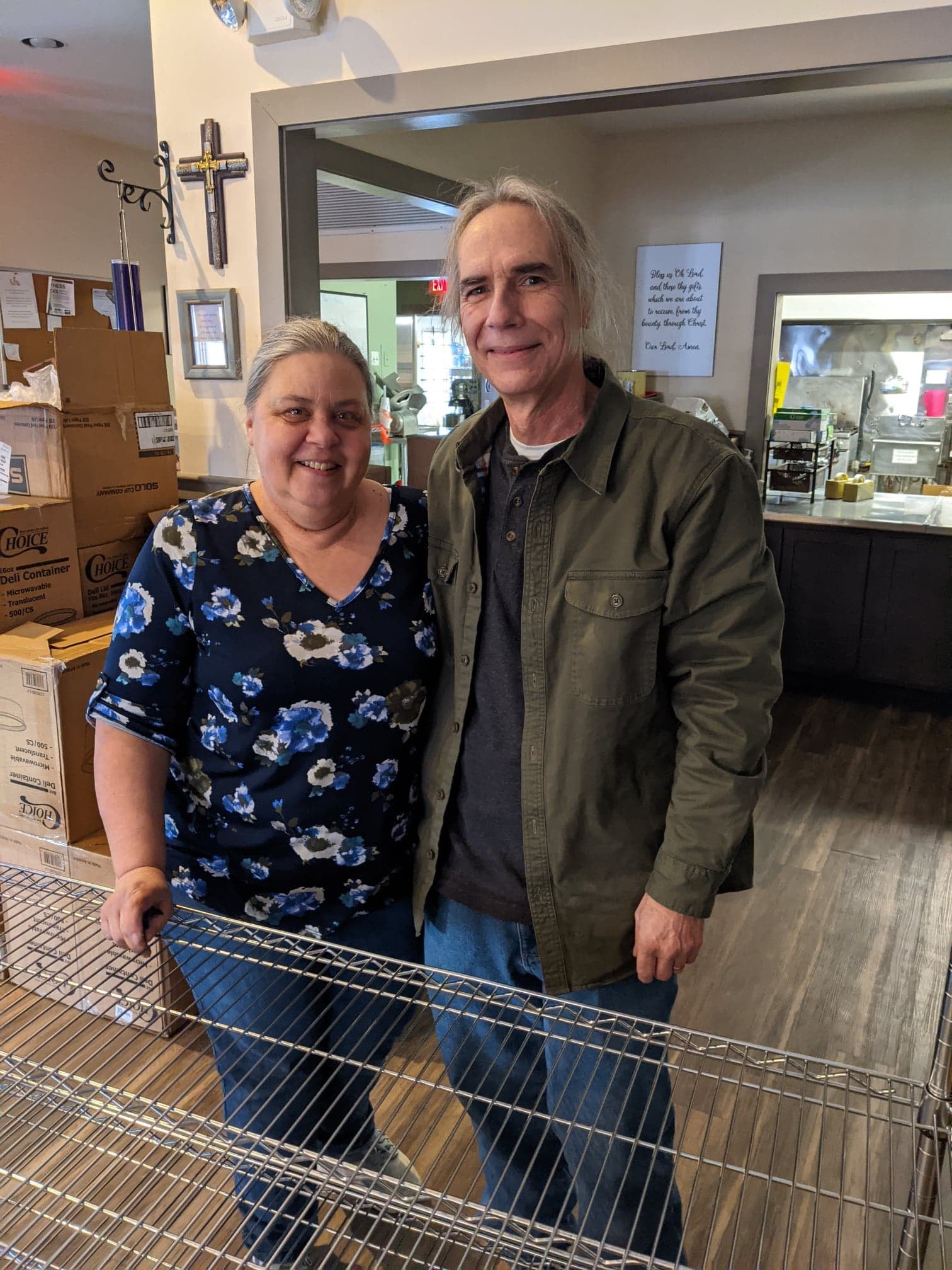 "My wife and I have been involved with Martha's Kitchen for several years now. It's an even brighter spot for us especially in these uncertain times. We realized that when we moved here twenty-five years ago, that it was a unique, quaint community. A community that comes together even more in times of need. Working at the Kitchen is just a small way of giving something back. We are truly blessed to be part of this community."
~ Peter & Carole Beckert
Carole is our Kitchen Coordinator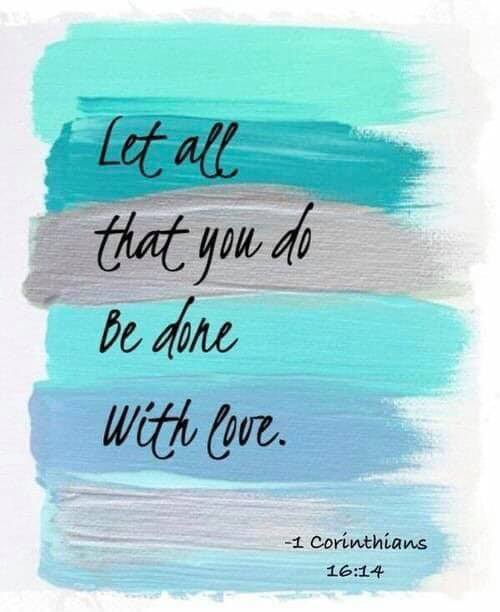 "To me, volunteering at the Kitchen, embodies the gospel reading: 'When did I see you hungry Lord?' We are so blessed, and in giving we die to ourselves in loving Our Lord. It's going out of our way to help my fellow man/woman. It is giving my fellow man/woman a hand up, it is saying; I care for you as a person. You matter!"
~ Mishie Bovat
"We need to serve and Martha's
is a good fit for me.
Each of us are called to do what we can, where we can, with what we have.
And, I'm a 'Martha'!
If we don't serve others, then
why are we here?"
~ Carol Boissonneault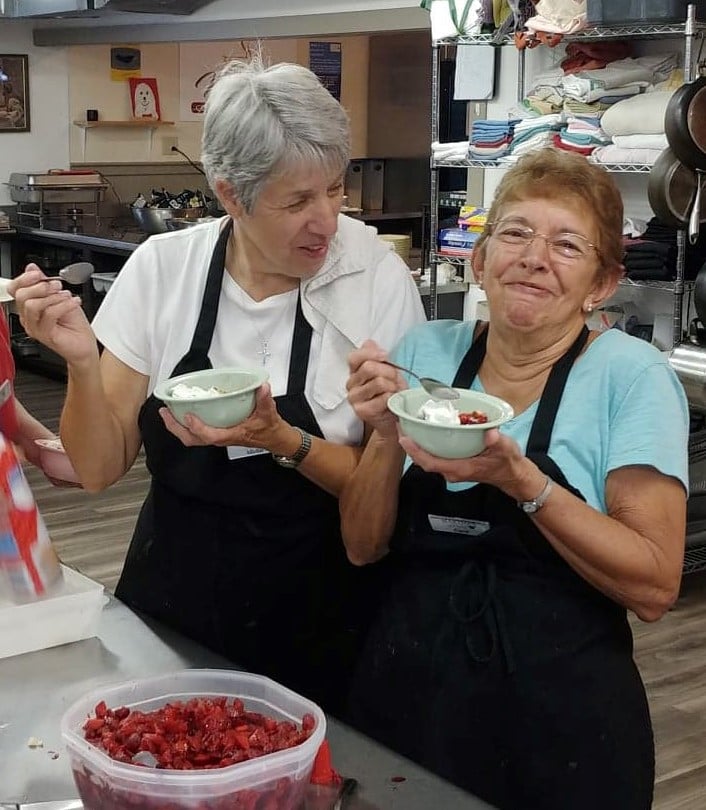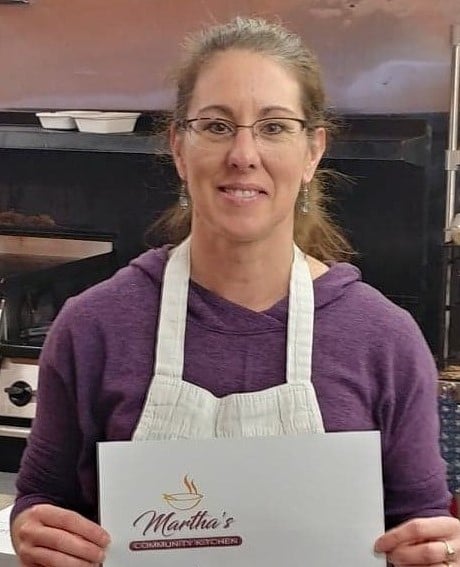 "Five years ago in the church bulletin, I saw that the Kitchen was looking for volunteers. Both of my daughters are grown so I had free time to fill. I decided to 'try it out' because I have always liked cooking and working with the public. Since I started volunteering here, I have enjoyed meeting and getting to know both the patrons and the other volunteers who come in. Over the years I have been able to develop friendships with
the amazing people I get to serve with."
~ Lynette Strong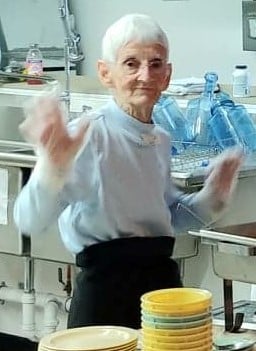 "I've lived and worked in Franklin County for most of my life – this area and its people have been very good to me. After working in the St. Albans school district (now known as Maple Run Unified School District) for 32 years, I felt it was time to give back to this resilient community that gives so much to so many. Knowing there is a growing number of people with food insecurity, Martha's Kitchen was the place that stuck in my head – I love to cook, I love talking with people, and I love helping. Since I started, almost two years ago, I have met some amazing people and feel a renewed sense of purpose. Giving back to your community
is the right thing to do!"
~ Joyce Kemp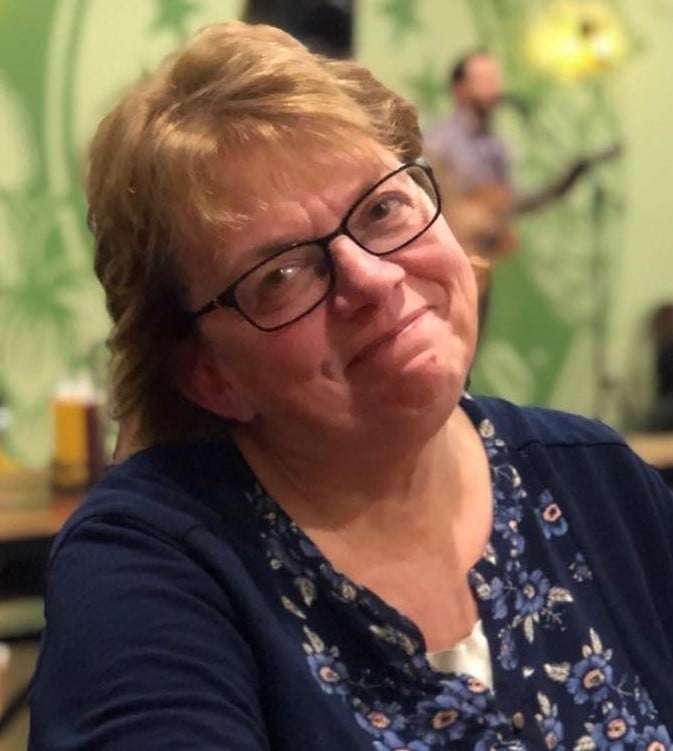 "I choose to continue to volunteer during the Covid pandemic because I can.
This has affected every single person in some way. I am able and willing to do what I can to continue serving the vulnerable population with warm and delicious meals all while the dining room is closed. To be able to provide a simple meal at this stressful time not only lights
up the recipients' eyes but
warms my heart.
I will, Lord willing, continue to be loving on the vulnerable in this way as long as it takes. A benefit is, I consider the recipients' friends and we have a great group of humble and willing
volunteers who serve alongside to get the mission done well each day."
~Marianne Dubie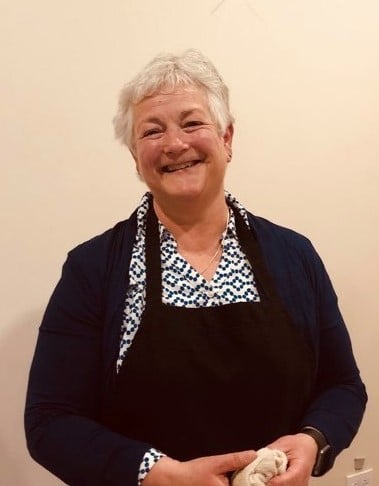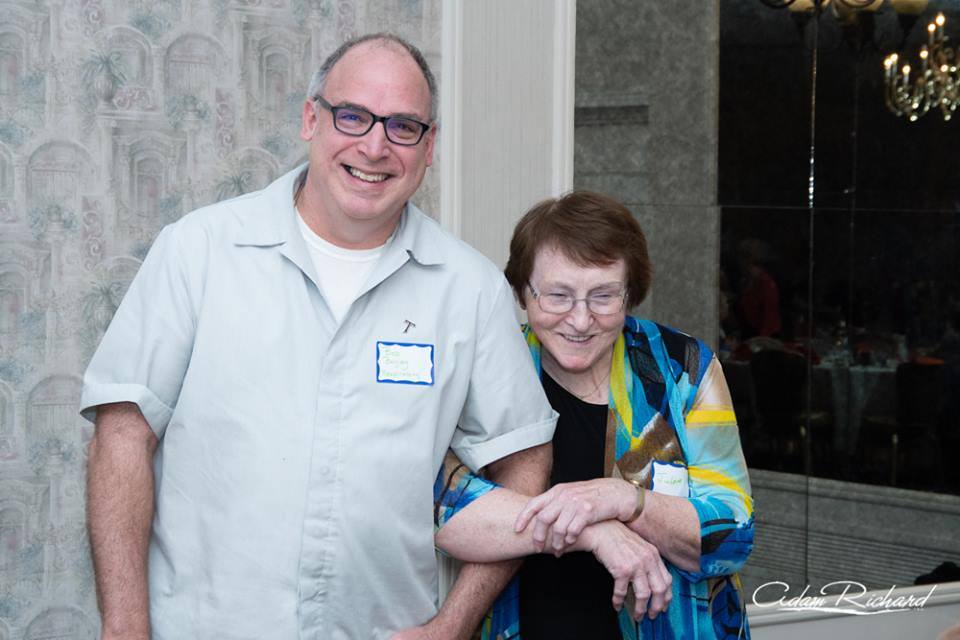 "We should never say 'we are too busy to help'...  We are here to serve and that can happen in a variety of ways.  Don't just sit and wait for the world to become a better place. Get up and witness how good the world is because each of us here for each other!
And if you are unable, for whatever reason, to go and serve, then spend your time praying for those who are serving!"
~ Julia Murphy R.N.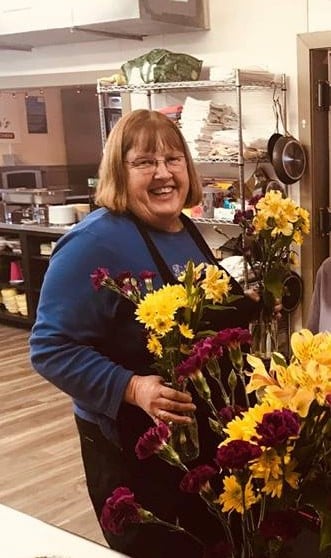 "I have been gifted the opportunity of volunteering at Martha's Kitchen
for the last year and a half.
It has been a rewarding experience meeting extraordinary people,
both clients and other volunteers.
Thank you for allowing
me to be a part of this.
Sometimes I get so involved
with my own issues I neglect
to think of others that
have far more difficulties.
This has opened my eyes."
~ Penny Jenness Snyder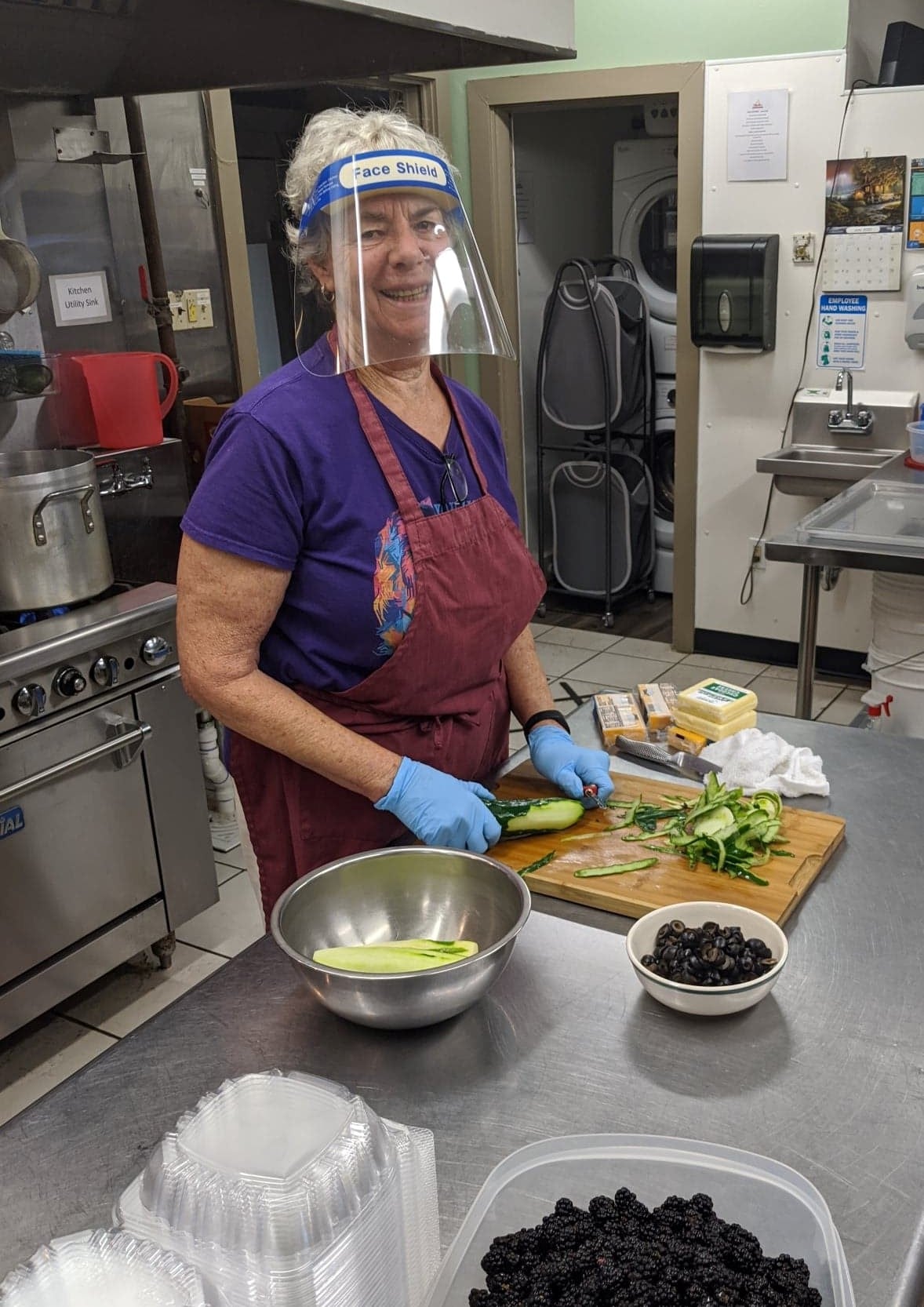 "Why do I volunteer at Martha's Community Kitchen?
The answer is in it's name -Community. Martha's is
local and the Kitchen's mission is to serve
hungry people in need of healthy meals and that's exactly
what happens here. I am fortunate to be able to participate
in this mission every week
with a small group of like
minded people."
~ Donna Fontana-Smith
"Volunteering gives me a sense of purpose. My volunteer work at Martha's Community Kitchen serves to help me carry out and express or facilitate my need for a sense of purpose. Plus, Doesn't everybody love new friends. My being a part of a team with a common goal has helped me form bonds with strangers that have become good friends...."
~ Dennis Moore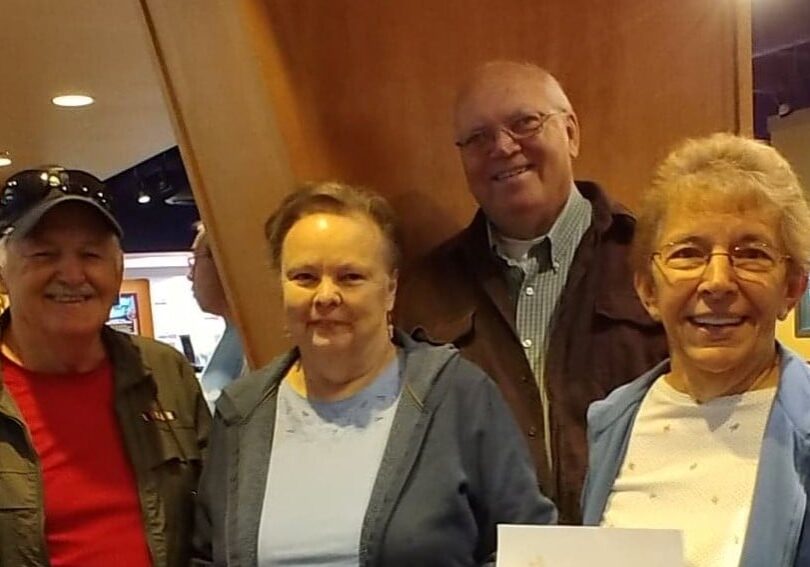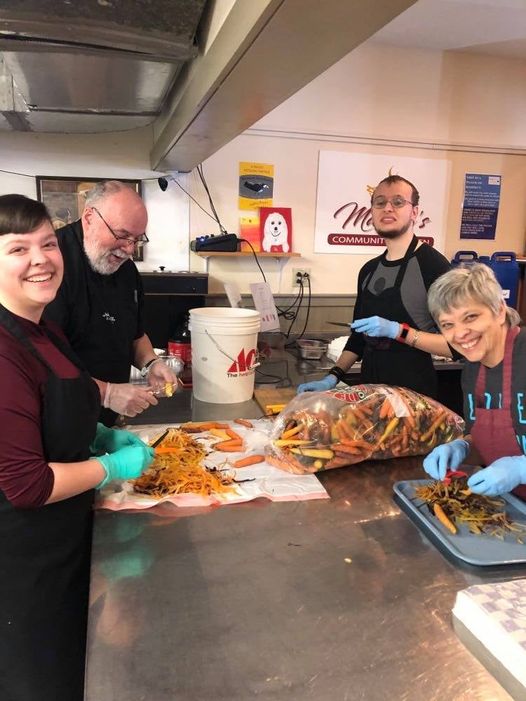 "We were looking for a volunteer opportunity for our son with special needs. Our friend Claire mentioned that maybe Martha's Kitchen would be a good place for him. We decided we should have him try it. Claire brought him and provided the support he requires. He loves all of the opportunities at Martha's: baking, separating food into portions, sharing dish duty, making sandwiches, prepping food and much more. The staff and other volunteers are wonderful people with a shared mission to support those in need. Two and a half years have passed, and he still loves volunteering at Martha's. We have transitioned so that I provide his support now. We are going two days a week and on the second day we make it a family affair as we greatly enjoy volunteering all together."
~ Garrow Family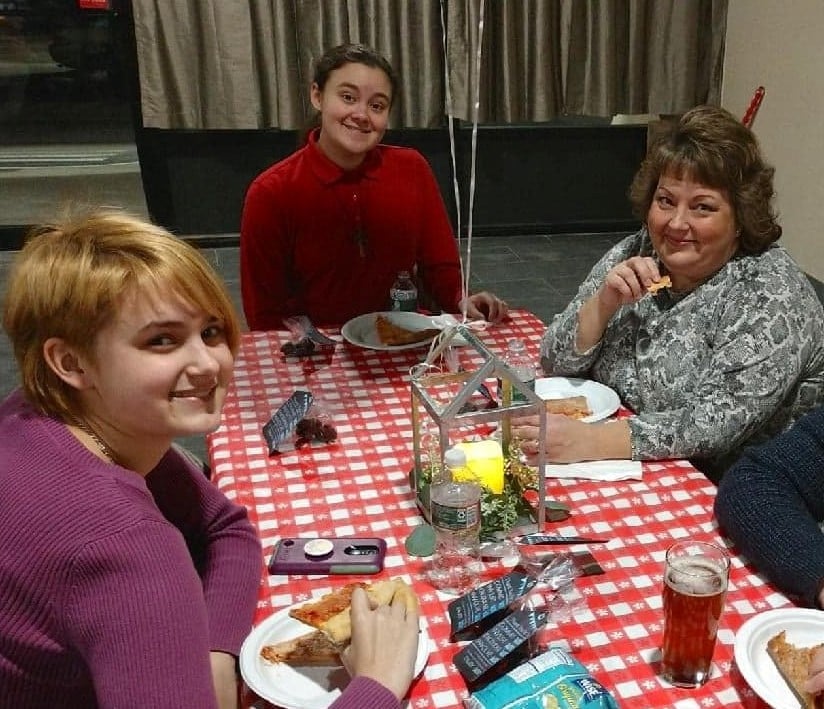 "Volunteering at the Kitchen is
like coming home for me.
I have felt welcome from "day 1"!
The people that I volunteer with on my specific day each week for the past few years have become dear friends...
all of us working for the same mission TOGETHER!
We are a unit helping those who need us, as wellas each other! When I count my blessings, the gratitude I have for
our clients and volunteers
is right at the top!"
~Mary Beth Redding
"I love that Martha's is supported by all of the churches and how everyone is made welcome regardless of faith." ~ Ali
"As a board member of Martha's Kitchen for the past few years, I've seen the data, the numbers of meals served and I've heard the stories of those we serve, always told to me by others. The Covid shut down gave me an opportunity to volunteer at the kitchen where I was able to see it all first hand. I expected to see lines of people looking for a little help and the kindness of those providing it.
What I didn't expect to witness was the community that exists at Martha's kitchen; its not as simple as providing a meal. There is a level of respect and care that passes so easily between those being served and those serving. Covid has increased the demands of the kitchen and those responding to that demand do so with grace and humility that make me so grateful to have them as a member of our community and extremely proud to be a part of this organization. " ~Andrea Gagner
"I volunteer at the Kitchen because I want to make
a contribution to my community that I can see
makes a difference
in the lives of the people the mission serves."
~ Nancy Senesac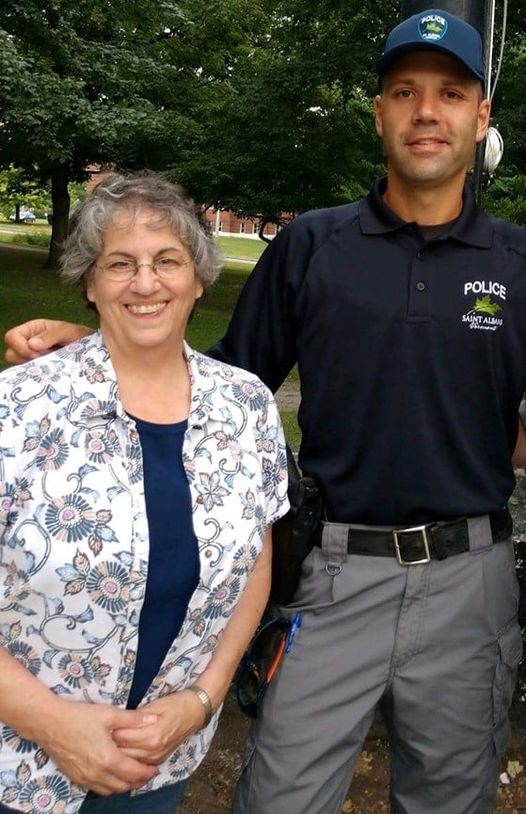 "I take great pride in being part of Martha's community Kitchen. Seeing smiles, and peace when people are at the kitchen provides me with a sense of hope in knowing that I had a small part in helping those less fortunate in our community."
~ Jason Wetherby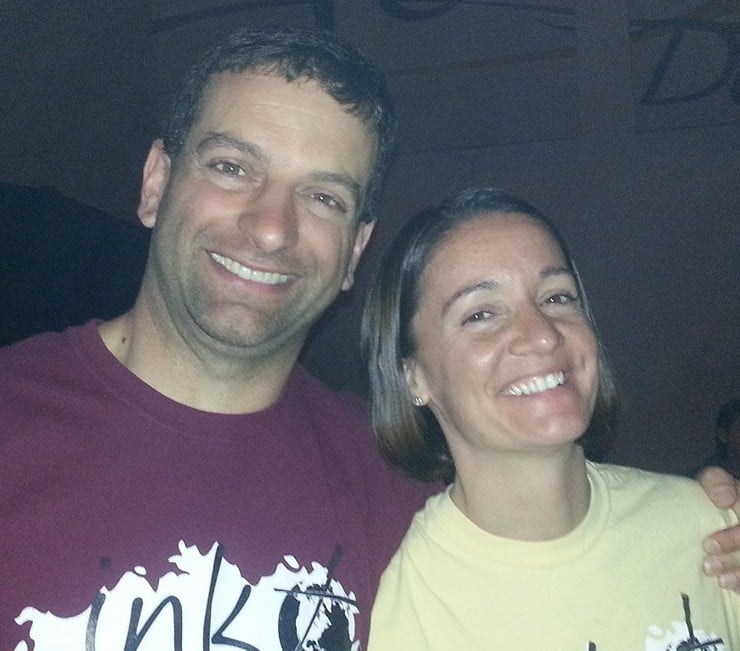 "We volunteer at
Martha's Kitchen to
make a difference
in people's lives.
Every time we help to cut up vegetables, wash dishes, or
fill 'take out' containers,
we know that we are helping
to feed people. The other volunteers and the people we serve are a wonderful
community to be a part of!"
~Brian & Tammi DiFranco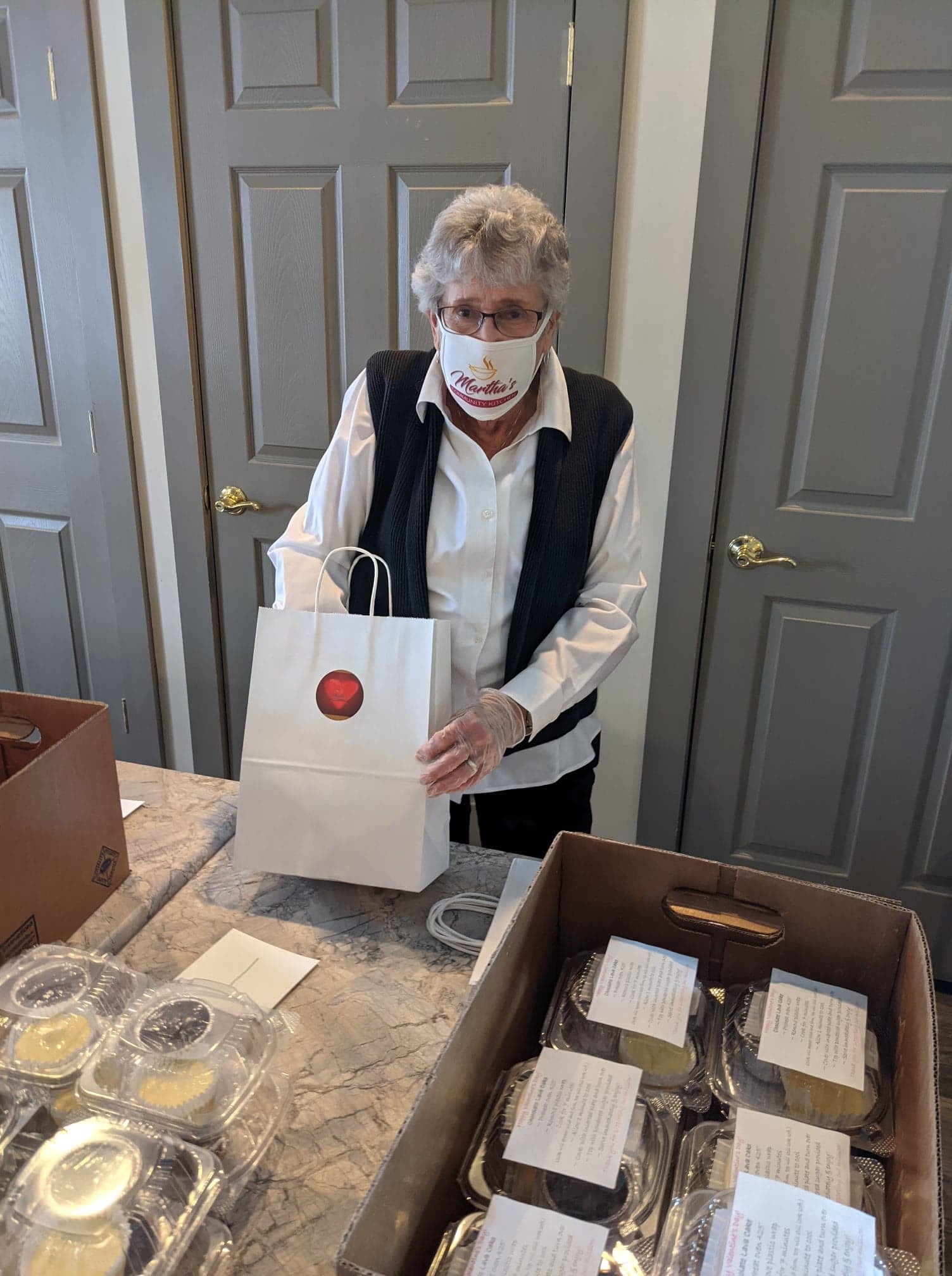 "Of course food is essential... However, even more importantly is the Ministry of Hospitality, making all feel welcomed."
~ Connie Lane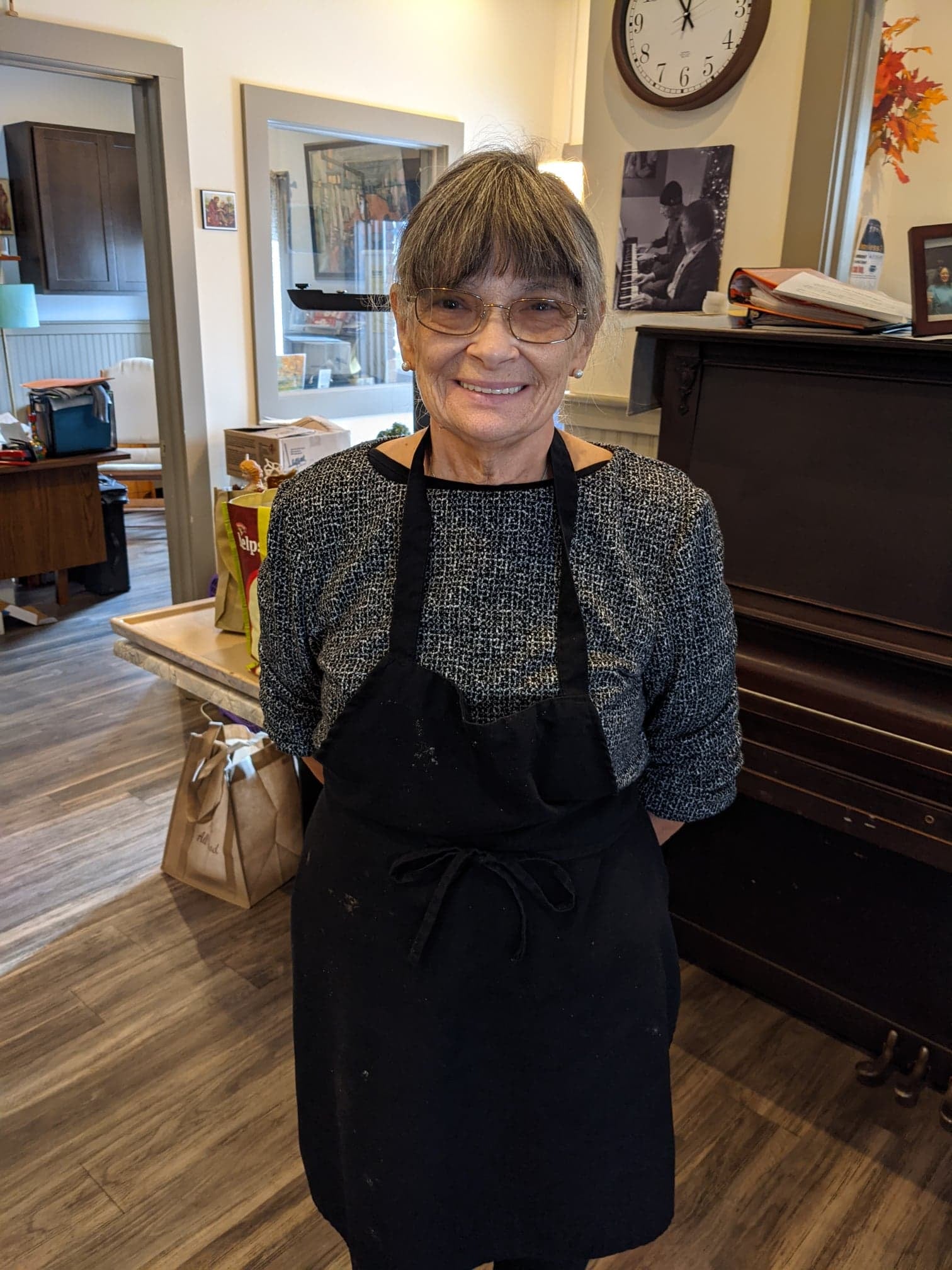 "...When the door opens and the patrons arrive, we are in the background. The servers greet each person individually and relay options for meals and choices of sandwiches for the day. They maintain respect and encouragement through difficult times, as each person leaves with their food. Their day and ours is brightened, and we have made a difference in each other's lives."
~ Connie Ladieu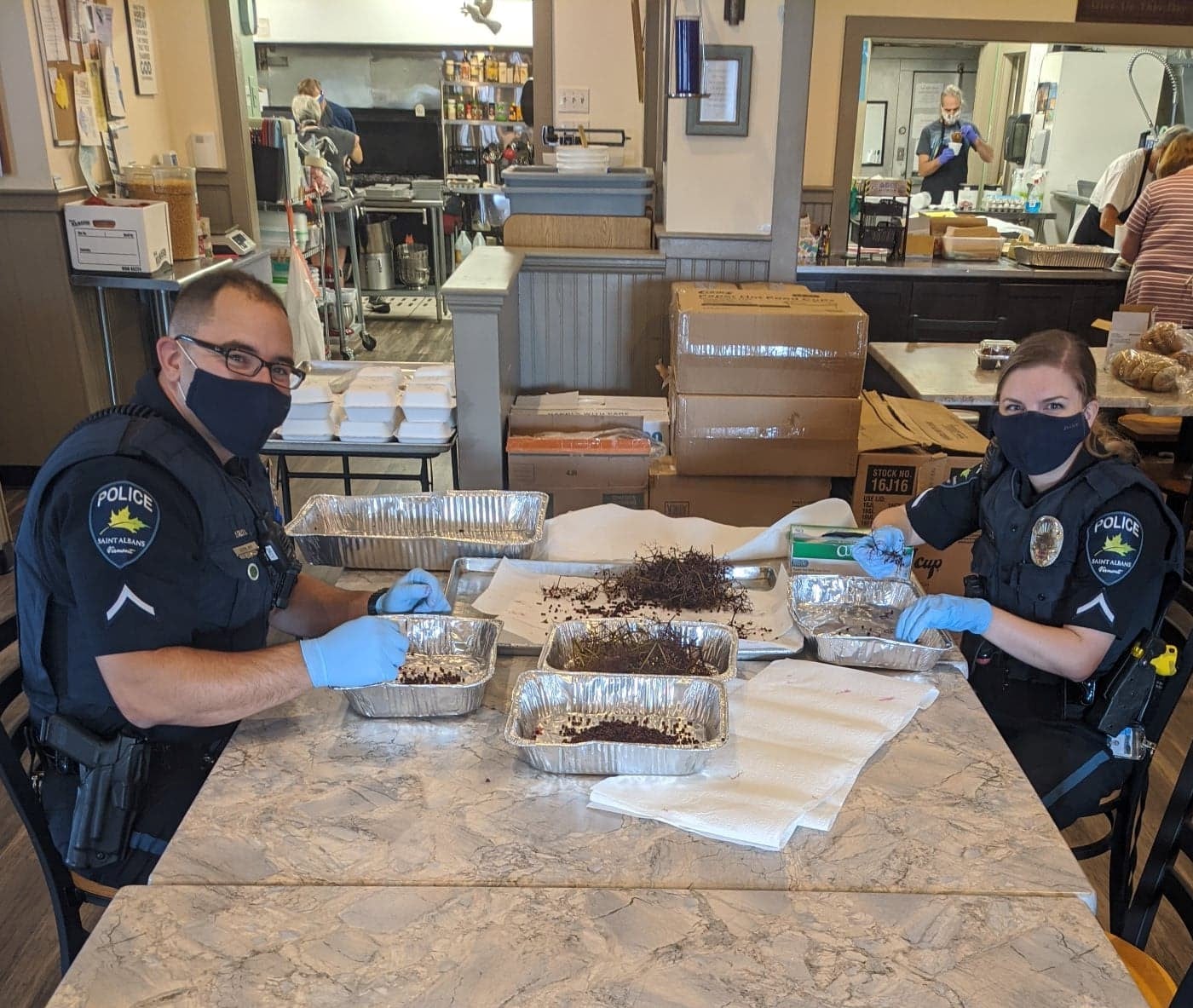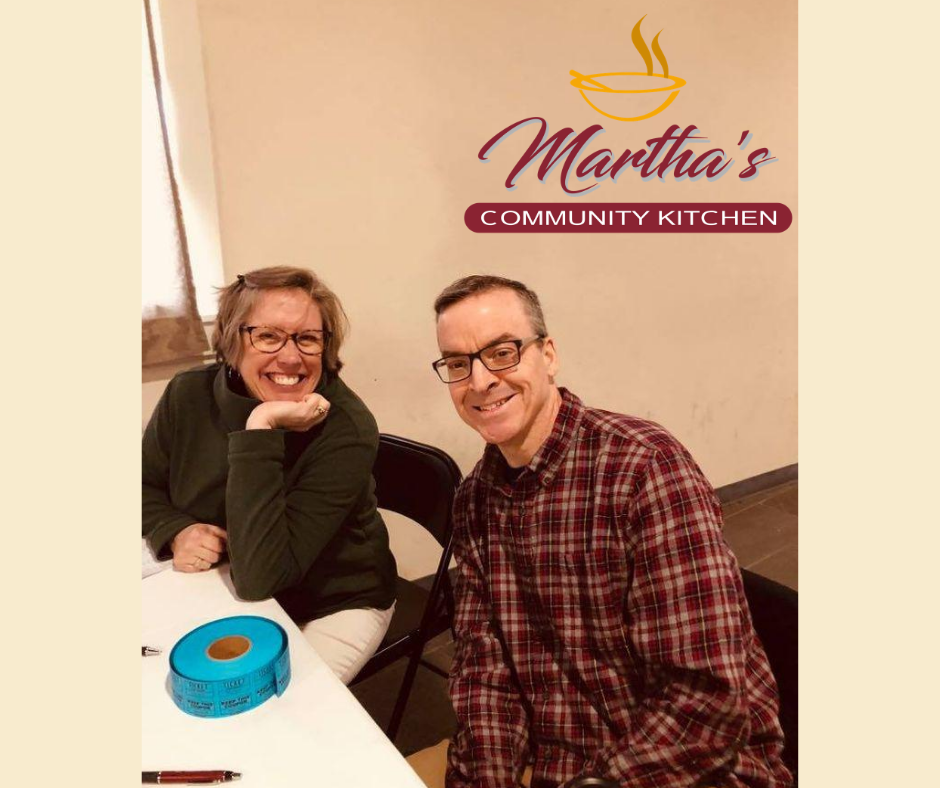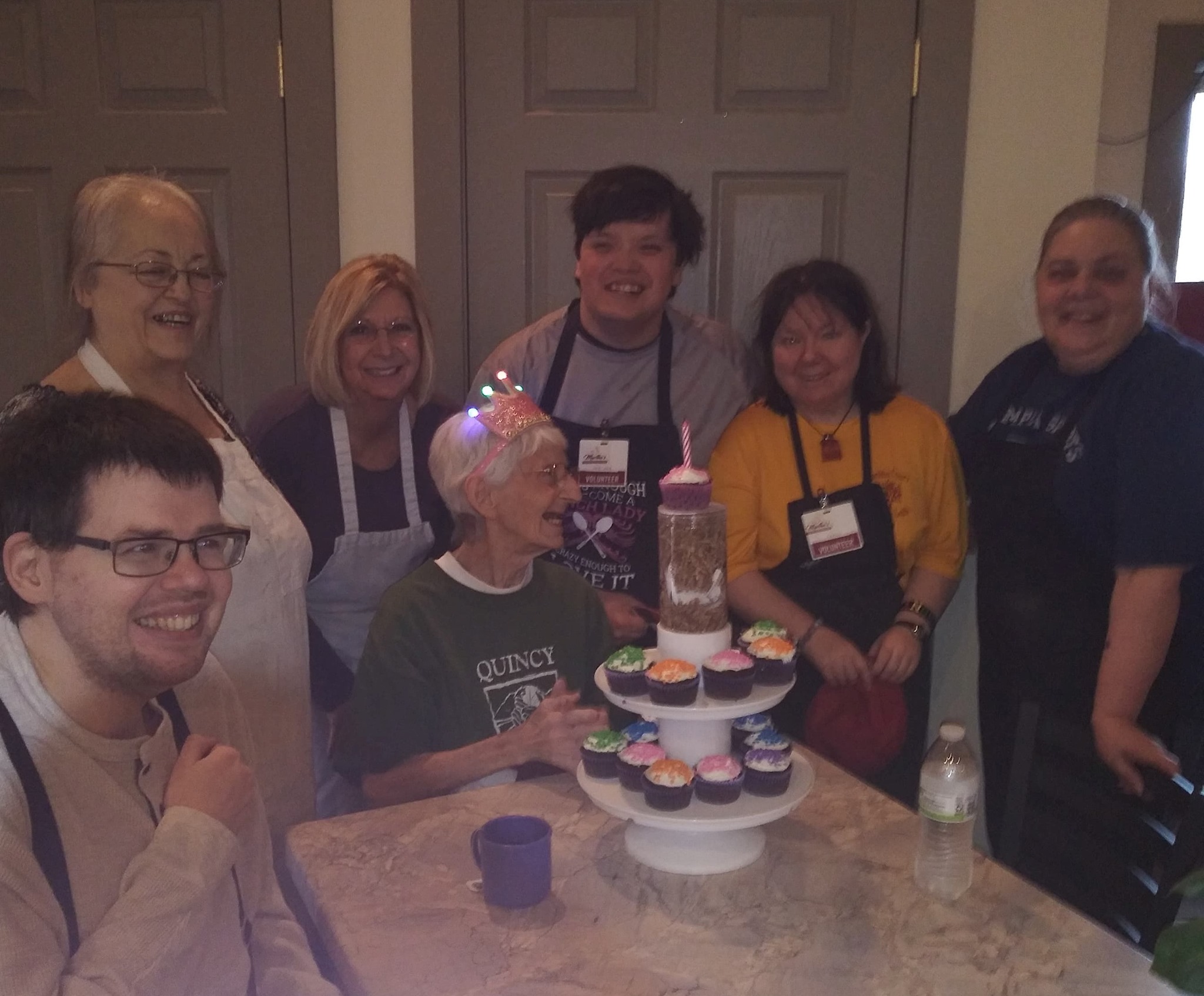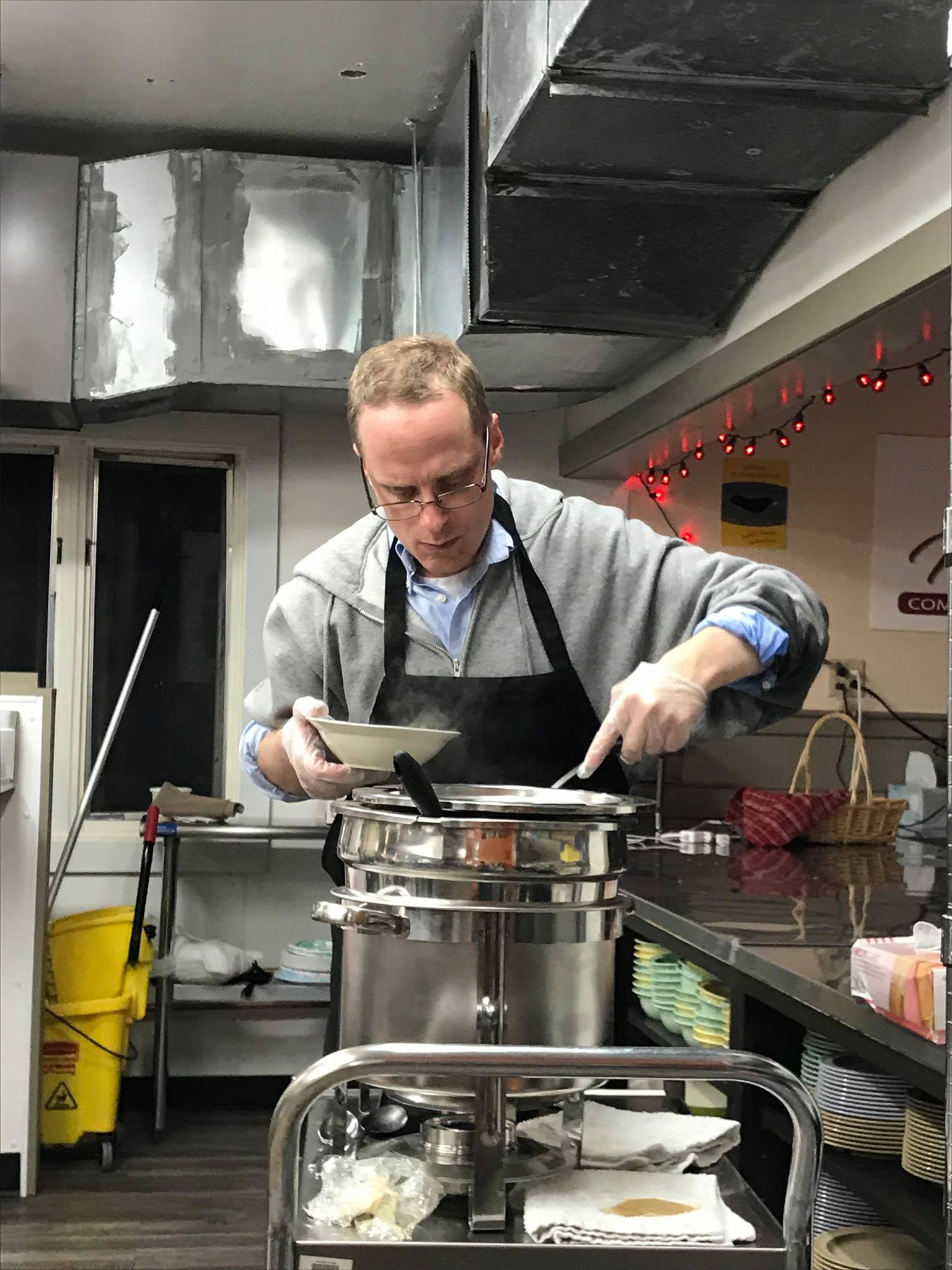 Jason Wetherby – President
Connie Lane Vice President
Natalie Good – Treasurer
Bill Simmons – Secretary
Kathy Chase
Marianne Dubie
Vickie Isham
Markus Neabar
Michelle Piche'
DEVELOPMENT DIRECTOR
Lynda Ryan
Kitchen Coordinator
Carole Beckert